The Prognos/BHI partnership: 5 reasons their joint medical underwriting risk predictor is a straighter path to underwriting accuracy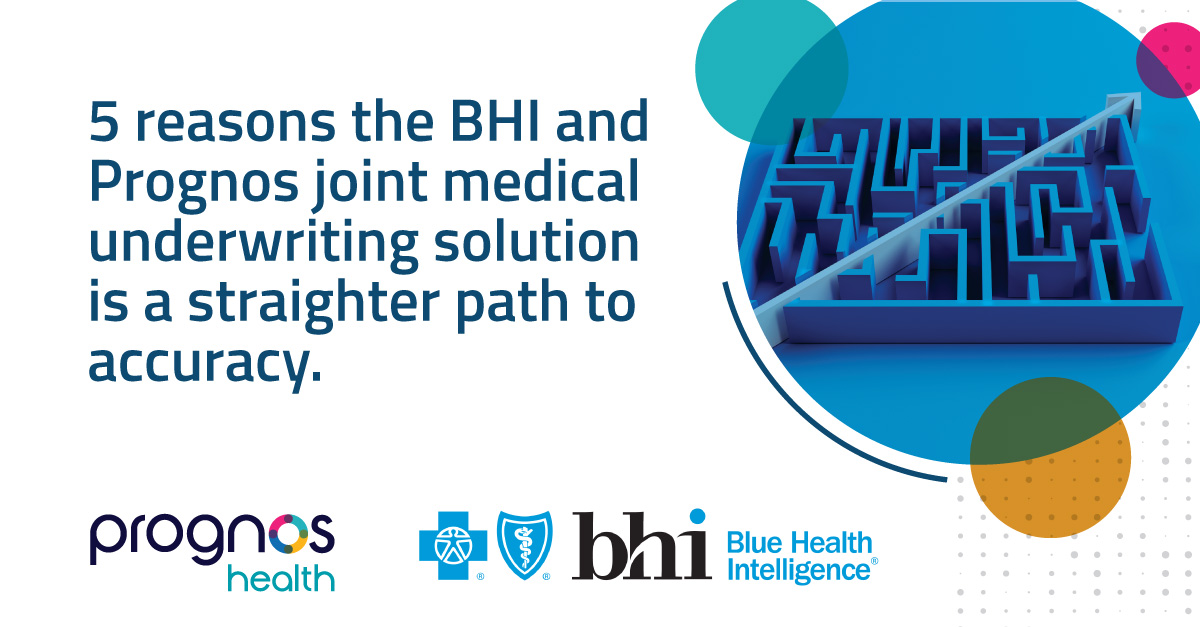 Prognos Health and Blue Health Intelligence (BHI) recently entered into a multi-year agreement that combines Prognos' AI-based predictive algorithms with BHI's vast medical and pharmaceutical claims database to create a best-in-class medical underwriting risk predictor solution. Both organizations bring unique capabilities to the table, creating an unparalleled underwriting tool, jointly developed and exclusively sold, to meet the unique needs of the healthcare payer market.
5 ways the Risk Predictor solution delivers a distinct underwriting advantage.
Inside data provides tailored insights
The BHI Claims Registry provides system-wide historical member cost and utilization data. This proprietary data enriches and refines Prognos' predictive models, providing users with tailored insights into the collective risk of the member group and individual participants.

Prognos lab data provides a clearer picture of member health
Many healthcare payers apply a manual rate based on past payment history to calculate a risk prediction score. Relying on historical claims data leaves a lot to chance. It may provide an accurate account of what a member's health status was in the past, but it doesn't provide a clear picture of what a member's current health is, or what it may be in the future.

The Prognos registry contains harmonized lab data on more than 325 million de-identified patients. Data elements include LOINC, test results and interpretation, ICD-10 code, CPT code, and much more.

Clinical lab data is the earliest indicator of emerging conditions and provides insight into disease and the severity and progression of said disease. Plus, lab results don't have the latency that medical and prescription claims do, providing a more accurate and timely picture of member health.

Comprehensive data closes information gaps
The BHI Claims Registry provides valuable historical data on current and past members, but offers limited insight into new prospective members.

The Prognos registry directly addresses information gaps on members where there is no prior BHI claims history by pulling data on these members from other sources (e.g. lab data, medical and prescription claims, etc.).

ML enhances outlier identification
The Prognos platform leverages machine learning (ML) algorithms that quickly analyze lab data to identify high-cost individuals with significant utilization, helping to score employer groups with unsurpassed accuracy.

Individual member outliers can be difficult to pinpoint via traditional manual processes and are a primary cause of inaccurate group quotes that can result in payer losses.

Improve underwriting speed and confidence with a custom medical underwriting risk predictor
Member rosters can be uploaded and scored by the Underwriting Risk Predictor in less than a minute. The tool predicts member costs using lab data, demographics, clinical analysis, and more to allow you to predict risk with confidence and bid more competitively.
Discover the power of Prognos' and BHI's Underwriting Risk Predictor for yourself.
If you are still calculating group premiums the old way, you are leaving money on the table.
Access a custom solution of multi-faceted data sources that include BHI claims, clinical lab data, and Prognos' registry of open and closed claims.
You now have a competitive advantage in understanding group health to provide greater accuracy and a timely picture.
Meet with an underwriting expert to revolutionize your underwriting.