Your 5-Point Checklist for Fueling Pharma Omnichannel Marketing With RWD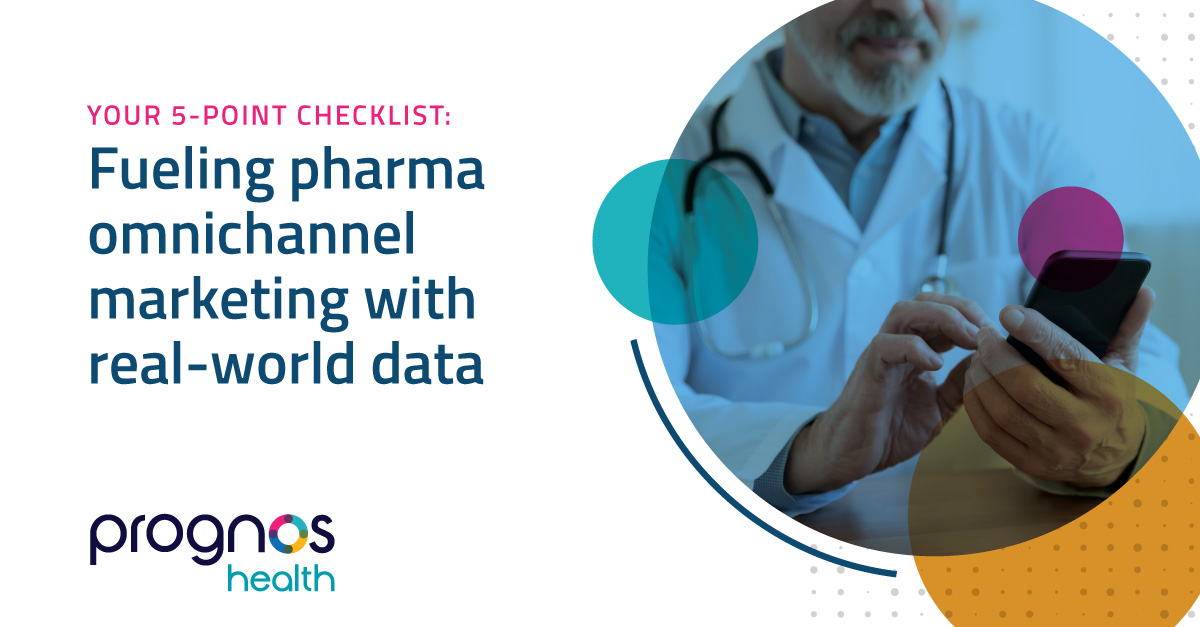 Life science organizations have moved away from traditional marketing models in favor of an omnichannel approach, particularly as many healthcare providers closed their doors to pharmaceutical reps in the wake of COVID-19. Marketers have made sizable investments informing physicians about their brands through multiple digital channels, but many have struggled in their omnichannel efforts because of the resources required to execute an integrated cross-channel strategy across multiple physician touch points.
Here's a checklist of the 5 ways an RWD curation and analytics platform, such as Prognos Factor, can enhance your pharma omnichannel marketing outreach:
More precise clinically-driven targeting
Prognos Factor allows life science marketers to query a registry of more than 325 million de-identified patients and over 2 million treating providers using a variety of detailed criteria. For patients, this criteria includes lab results, diagnosis codes, prescription information, comorbidities, tumor stage and more. For providers, it includes important characteristics such as NPI number and specialty.

These specific clinical factors allow brand teams, agency and marketing activation partners to quickly and precisely identify desired patient cohorts that could benefit from a chosen therapy as well as their treating providers.The process helps bring the patient journey, disease, and disease severity into focus. Furthermore, this information enables the creation of provider-directed marketing messages that directly align to the needs of relevant patients while treatment decisions are being made.

Automation via an AI-infused platform
The Prognos Factor platform leverages multiple artificial intelligence (AI) and machine learning (ML) algorithms to automate many of the tedious data preparation and matching tasks that historically have required substantial time and resources from life science companies. For example, the platform's AI algorithms automatically identify brand-eligible patients as lab testing occurs. These sophisticated and well-trained algorithms are also used to identify and fill in missing information (including provider NPI number, missing ICD codes, etc), resulting in far more comprehensive and accurate data.

Optimized outreach via system integration
Prognos Factor seamlessly integrates with familiar and best-in-class systems such as Veeva CRM and Proclivity Systems. These systems leverage the data-driven insights generated by our platform to improve the coordination, timing, and relevance of your messaging to field reps and across digital marketing campaigns.

Analytic insights in a single view
Prognos Factor delivers reporting in a single view, allowing pharma marketers to quickly assess and strategically orchestrate omnichannel efforts. Our dashboard provides a deep dive into single channels or profiles to measure their ongoing effectiveness. Performance data points include:

• AI-driven profiles to trigger ads to field target lists, providers treating newly diagnosed patients, and more.

• KPI Definitions

• Number of provider leads

• Heat map Summary

• Reach, impressions, exposure rate, frequency

Timelier engagement with regularly updated health datasets
The de-identified data available via Prognos Factor is updated on a daily basis. This is particularly valuable when it comes to lab results, which provide the most up-to-date information available about the current health of a patient. Prognos Alerts can be delivered on a cadence that works best for your brand team, giving you the real-time information that enables you to engage with physicians before they decide on treatment.