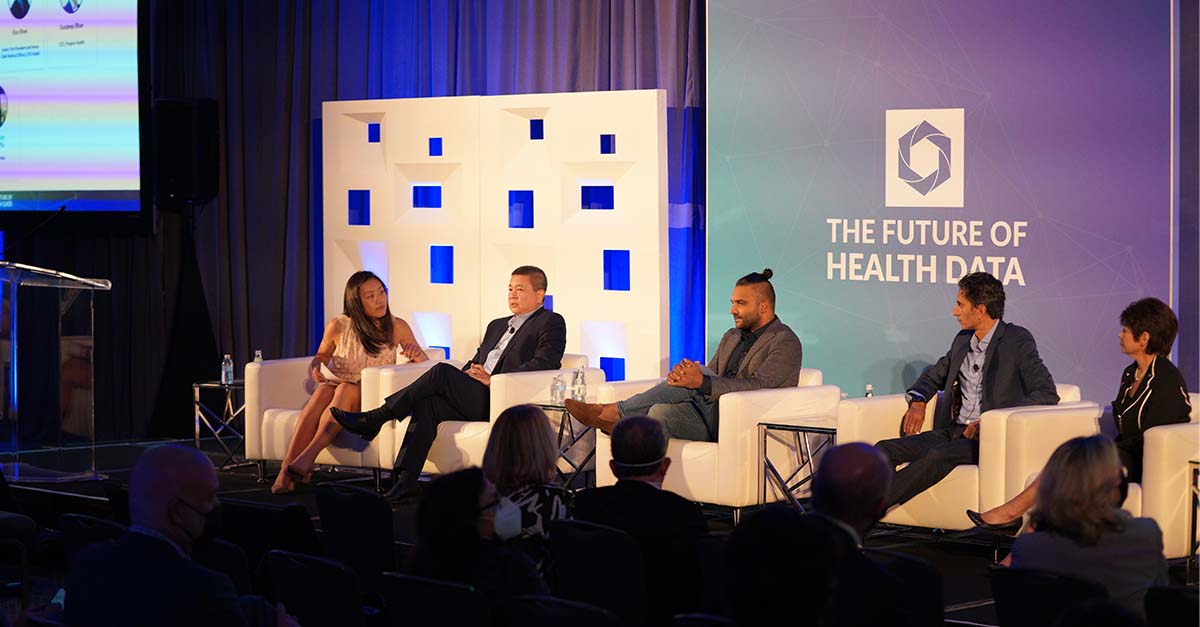 Datavant, the leader in helping healthcare organizations securely connect their data and a Prognos Health partner, recently held its Future of Health Data Summit in Washington DC. This in-person event brought healthcare leaders together to discuss emerging opportunities and challenges around the use of health data to improve patient outcomes.
Prognos CEO Sundeep Bhan was a featured panelist in a session titled The Data Ecosystem in 2025, which also included leaders from CVS Health, Komodo Health, and Blue Health IntelligenceⓇ (BHIⓇ). The discussion centered around the explosion of new health data sources, the technological developments necessary to safely harness and analyze this diverse data, and emerging use cases for future health data analysis.
More data should uncover more info about the patient
According to the panel, the health data ecosystem is exploding, and will continue to be infused with new data sources in the near future.
"We've seen an explosion of data sources over the past few years," said Bhan. "The ecosystem used to be dominated by medical claims and prescription data, but now we're seeing an influx of new sources that provide different healthcare services and have access to new types of data. This includes clinical sensors and devices providing patient-generated data. This is going to open up new use cases and put the industry in a better position to improve patient outcomes."
To have this anticipated positive impact on outcomes, however, at least one panelist believes new data needs to deliver information about the patient that currently isn't captured or analyzed.
"We have all this data, but there is still a lot we don't know about the patient," said Swati Abbott, CEO of BHI. "We don't know the best ways to reach out to them. We don't know what their preferences are. We don't know if they live alone or if they have behavioral health concerns. There is a lot of data, but we're not necessarily connecting it the right way."
Data-driven insights drive effective strategies
Despite seeing a need for more thorough collection and connection of patient data, Abbott feels health data is already making a significant impact on driving more effective business strategies in both the payer and life science industries.
To hammer this point home, Abbott detailed a specific use case involving a large employer aiming to lower the cost and improve the quality of the healthcare provided to its employees. The employer initially believed the best way to accomplish this goal was to identify the bottom five percent of providers in their network and eliminate them from inclusion in their plan. However, after analyzing historical BHI data, it was discovered that this move would have a nominal impact on expenditures and quality of care. Instead, it was determined that steering members to the top 10 percent of providers from a performance perspective would be a much better way to achieve this goal.
"If you can leverage data to inform decisions, you can completely pivot and change conversations," said Abbott.
Data key for health equity
The panel also discussed the role patient data needs to play going forward to help ensure health equity among different races, ethnicities and socio-economic backgrounds. Kyu Rhee, Senior Vice President and Aetna Chief Medical Officer for CVS Health, outlined his organization's framework for "Techquity" (i.e. using technology to promote health equity). The framework includes hiring a diverse workforce that accurately represents the populations served, ensuring data trust through the inclusion of race and ethnicity information in the data collection process, and the creation of standard health equity disparity dashboards.
According to Rhee, there are widely reported health differences based on race. Collecting and analyzing race and ethnicity data is extremely important to understanding these differences, addressing them, and ultimately improving outcomes.
"The Future of Health Data Summit brings payers, providers, life science companies, and technology platforms together to discuss how connected health data can be instrumental in surmounting key industry challenges," said Elenee Argentinis, Head of Marketing at Datavant. "Organizations that have built a discipline around compliantly connecting health data are an accelerant to the improvement of care and research. Summit is a wonderful opportunity for them to share their learnings with the broader healthcare ecosystem."