How RWD Marketplaces Help Solve Pharma's Top 10 Challenges to Gathering Actionable Data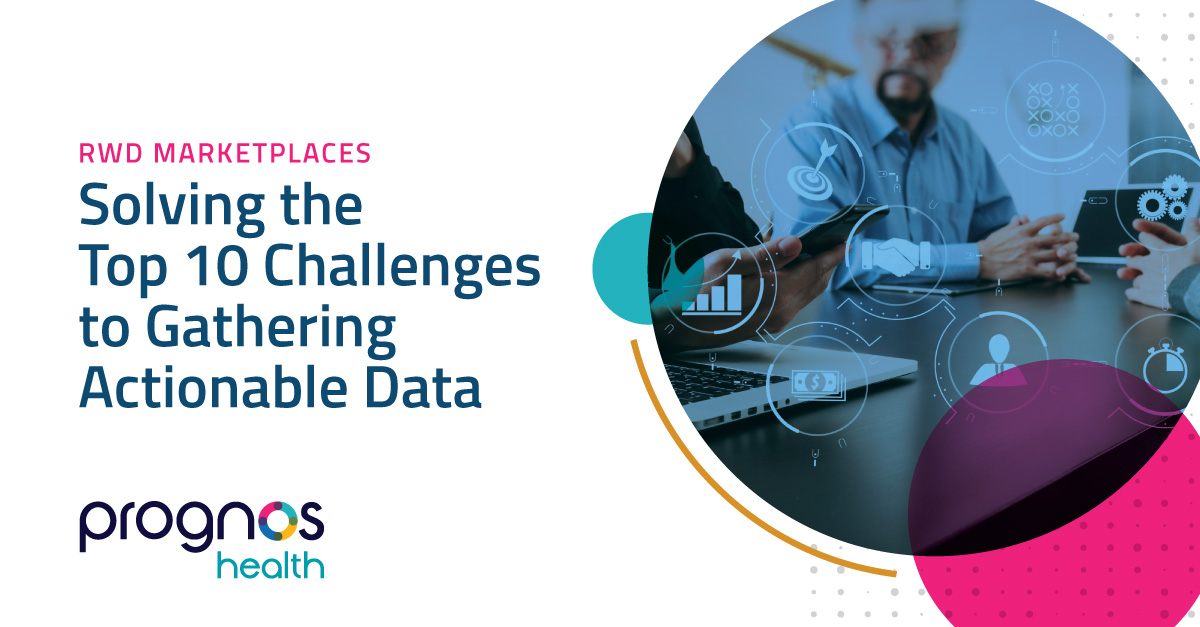 A major step in the process of launching a new drug is compiling and analyzing various real-world data (RWD) sources to identify patient populations and refine sales and marketing strategies for those populations. Historically, this process has come with many challenges that make it difficult to glean actionable insights from these data sources.
According to 215 senior pharma professionals from around the world, the top 10 challenges they face when gathering actionable data are high expenses, slow time to value, the need for internal mindset shifts, having to manage multiple vendors, lack of in-house resources, inflexibility, compliance regulations, opaque insights, poor useability, and nickel and diming.
Health data marketplaces like Prognos that enable pharma teams to purchase real-world patient data are working to improve this process. We've found that utilizing a RWD marketplace can help pharma companies solve all 10 of these challenges.
Here's how.
1. Expensive (multiple vendors, contracting, etc.)
The high expenses that come from dealing with multiple vendors and contracting were reported as the top challenge to gathering actionable data. When life science companies utilize a marketplace, they're no longer exposed to the overbuying or double buying that can occur with aggregators or direct data purchases, allowing them to use their budget more efficiently and strategically.
Because of the precision, a marketplace offers in identifying patient populations, resulting data purchases are extremely cost-effective. Also, with a marketplace, companies can purchase data at will, on their own timeline, and eliminate the need for multi-year contracts.
2. Time to value
Data science teams typically spend a significant amount of time managing individual data sets from different data vendors. Because the data from a marketplace like Prognos, which leverages a patent-pending database management system enabling no-code exploration of hundreds of billions of medical records at interactive speeds, has already been de-identified, harmonized, and standardized, users have access to data sets that are ready for in-depth analysis at the time of purchase.
This gives data science teams more time to run analysis and gain quick access to insights that might otherwise have taken months to obtain. And because the data is integrated and linkable, it can easily be combined (sometimes immediately) with other sources.
Streamlining the purchase and application of desired data sets allows companies to realize the value of these purchases faster and accelerates their speed to clinical and commercialization insights.
3. Internal mindset shift in understanding the value of the data for decision-making purposes
Companies who have not previously used a marketplace may not realize or understand the value and insights it adds to the decision-making process.
To address this, many global life science organizations are creating a Center of Excellence that focuses on securing and preparing RWD for use by business units throughout the enterprise, especially those that have traditionally lacked access to data resources.
RWD Marketplaces complement the Center of Excellence model nicely allowing companies to gain access to in-depth information. When more data is made available, there are more opportunities to use this data to inform decisions, and ultimately, for teams to see its power in action and realize its value.
4. Managing multiple data vendors
Because each data type on its own is incomplete, life science organizations must purchase data from multiple sources to paint a complete picture of a patient population.
At an administrative level, this poses the challenge of managing multiple contracts (and relationships) aligning timelines, but the most significant challenge is that each data set is formatted and structured differently.
When a company partners with a one-stop-shop marketplace like Prognos, they're working with one vendor who provides one data output that is de-identified, harmonized, and linkable across 400+ sources making the data ready for immediate analysis.
5. Lack of in-house technical resources or capabilities to maximize the data
Pharmaceutical companies are ultimately responsible for much of the arduous work of ensuring patient privacy and compliance.
This includes but is not limited to patient matching, data schema standardization, tracking commercial use rights, and minimizing the risk of patient re-identification. These checks and balances require a tremendous amount of effort, and the stakes are high. Without in-house expertise and labor to do this tedious work, the data will not be maximized.
Marketplace platforms solve this through their intuitive interfaces that give companies access to de-identified, transaction-level patient data from dozens of trusted data sources for millions of patients—leveraging analytics and automation to normalize data sets for faster implementation and application.
This benefits two groups of users: Stakeholders in large organizations without a background in data science and smaller life science organizations that may lack the resources to invest in an entire data science team.
6. Inflexible (linking, integration, operationalizing)
While marketplaces are a valuable resource for accessing robust libraries of RWD, it's worth noting that other data sources exist, including a company's internal data.
If a company has acquired this data over a long period, they'll most likely want to include it in their output. However, this data's inflexibility and lack of linkability can make gathering actionable insights difficult.
Prognos marketplace delivers linkability through Datavant tokenization technology, enabling easy integration of data sets, including existing data.
7. Regulatory and compliance
Similar to challenge number five, pharmaceutical companies are responsible for much of the tedious work required to ensure patient privacy and compliance.
Marketplaces solve for this by ensuring all patient data is already de-identified, normalized, and pre-integrated into a standard data schema. It's also fully compliant with HIPAA patient privacy regulations and adequately protects against patient re-identification.
8. The insights are too 'opaque'
Health data marketplaces focus on securing data sources that aggregators have historically overlooked, such as lab, Rx, and claims data. Having a broader set of data sources to include in an RWD set gives pharma companies a new level of clinical insight and perspective into their targeted patient populations.
Prognos recognized the significant clinical insight lab data could provide and filled this gap with the most robust lab registry available to life sciences.
The Prognos repository contains:
100B+ transactional records
325M+ de-identified patients
2M+ treating providers
10B+ RX data records from 200M+ patients
14B+ lab & diagnostic data records from 170M+ patients
50B+ medical claims data records from 210M+ patients
9. Poor usability (clinical data)
Patient data is a direct data source's core business. As such, many direct sources haven't invested much (or anything) in data scrubbing or standardization, resulting in messy data sets that require significant effort to prepare for production.
A company can purchase direct-sourced data to complement data purchased from an aggregator that may use different tokenization mechanisms, resulting in some patient data being unusable or bring charged additional costs to integrate all data to the same token.
Marketplaces eliminate the usability challenges with de-identified, harmonized, and standardized access to data sets that, once purchased, are ready for analysis.
Furthermore, companies may require support in ensuring the cohort they build is aligned appropriately with their desired use case. For these reasons, they'll want to ensure the marketplace partner they choose has a seasoned network of clinical experts on staff. These clinical resources work closely with the data science and engineering teams to develop the marketplace infrastructure in the most clinically relevant way.
These experts are valuable collaboration partners for companies designing their patient cohorts, helping them identify the most appropriate clinical criteria, and leading them to the best data sources for their use case. This collaboration saves time and ensures the accuracy of data sets.
10. Change/Scope purchase management (nickel & diming)
Companies can submit their selected patient cohort for a data pricing quote directly from the online marketplace. Then, they will receive a price from the marketplace vendor in a matter of days.
Before data purchase, cohorts can be further refined and customized to meet precise needs and budgets.
Once a company finalizes a cohort, they can purchase the underlying data for only those specific patients. They aren't forced to buy a data package that includes more patients or sources than they require. Plus, future cohort iterations don't require companies to go back to the drawing board; they can simply refine and enhance their initial profile.
Prognos marketplace allows companies to completely design and refine their patient cohorts before making a data purchase so they know exactly what they're buying—no redundant data, no surprises.
The bottom line
RWD marketplaces are helping pharma companies solve the top challenges they experience when gathering actionable data, allowing them to get harmonized data in minutes, not months, and buy only what they need. To learn more about the Prognos Marketplace, download our eBook Accelerate Pharma Value with Marketplace Buying.