Plan, Activate, and Optimize Precision HCP Marketing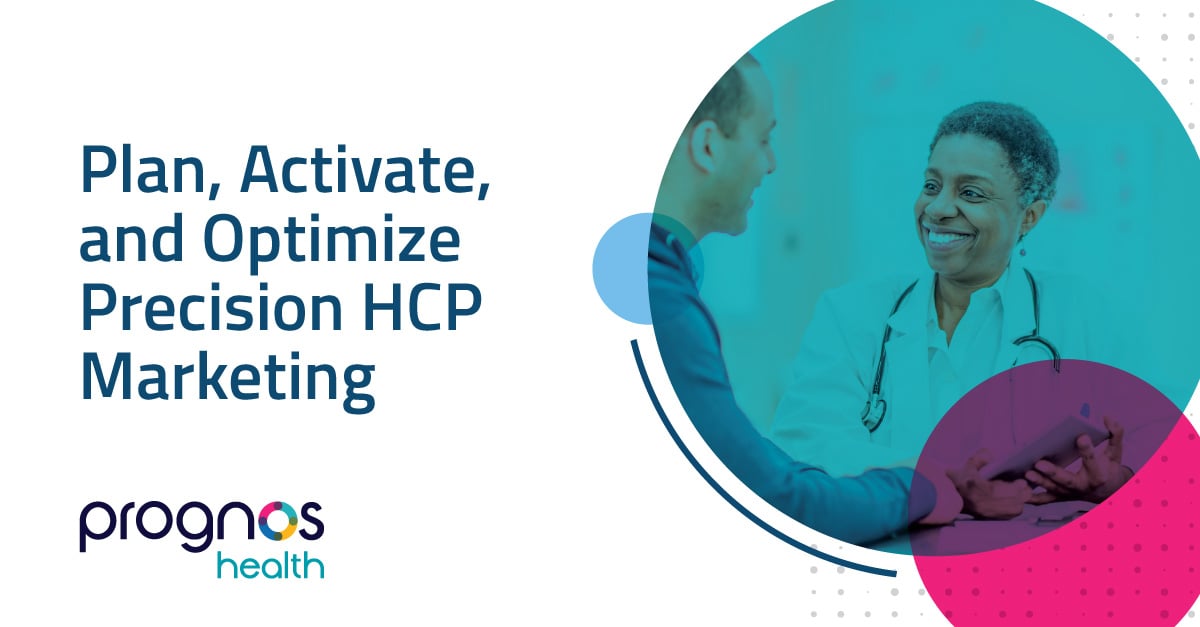 Without the proper support to know how, when, and where to reach HCPs, it can be challenging to achieve commercialization goals. Luckily, end-to-end solutions such as the Prognos Factor RWD analytics platform work to streamline and support precision marketing efforts across the entire patient journey.
Using our suite of solutions, pharma companies can utilize RWD to methodically and precisely target HCPs at the top of the funnel to drive brand awareness through the bottom of the funnel, intercepting them ahead of a treatment decision.
Prognos' platform enables pharma companies to use RWD to plan, activate, and optimize their commercialization strategy. Here's how:
PLAN
Pharma companies can strategically plan their commercialization efforts using RWD and analytics pulled from the Prognos platform that uses precise alerts for healthcare marketing to target HCPs.
First, companies identify the proper patient populations with precision targeting. Then, they can create a customized communication strategy centered around alerts that trigger throughout the patient journey for precision outreach and meaningful engagement. They can also leverage omnichannel marketing to plan the best way to reach providers.
ACTIVATE
After a robust plan is established, pharma companies can activate, executing the tactics to drive disease and brand awareness, and acquisition and retention efforts.
During the activation stage, users can leverage Prognos' RWD data platform to:
Segment HCPs: Pinpoint the target HCPs treating specific conditions.
Sequenced Alerts: Alerts trigger when events occur throughout the patient journey informing the field of appropriate times for outreach (newly tested, diagnosed, therapy starts).
Send Personalized Messages: Keeping your brand top of mind with HCP outreach.
Upper funnel: Prime HCPs and build awareness & affinity with their brand and field rep before patient events occur.
Lower funnel: Because of proactive alerts and insights throughout the journey, reps can intervene at precise moments and stay ahead of treatment decisions.
OPTIMIZE
Once a plan is activated, now it is time to refine and measure to optimize their precision marketing program. Prognos' platform automatically maps and customizes essential metrics to monitor and measure outcomes.
For example: If a company is interested in measuring Rx script volume, after planning and activating real-time segmentation schemes, Prognos can analyze this program and determine who went on therapies and when delivering actionable metrics.
This type of in-depth and custom analysis gives pharma companies the visibility they need to enhance their strategy by:
Measuring the impact the brand has had against its goals.
Determining what specific area of the marketing program requires optimization.
Understanding which channels/modes of outreach are most effective.
Refining segmentation schemes and alerting triggers for strategic alignment.
Want to see Prognos Factor in action?
Our precision marketing is modular, giving you the flexibility to tailor and customize it to best suit your brand and organization's needs.
See how Prognos Factor can help your company reach its unique marketing goals across the entire patient journey by requesting a personalized demo.