How to use RWD for provider engagement: 3 pharma best practices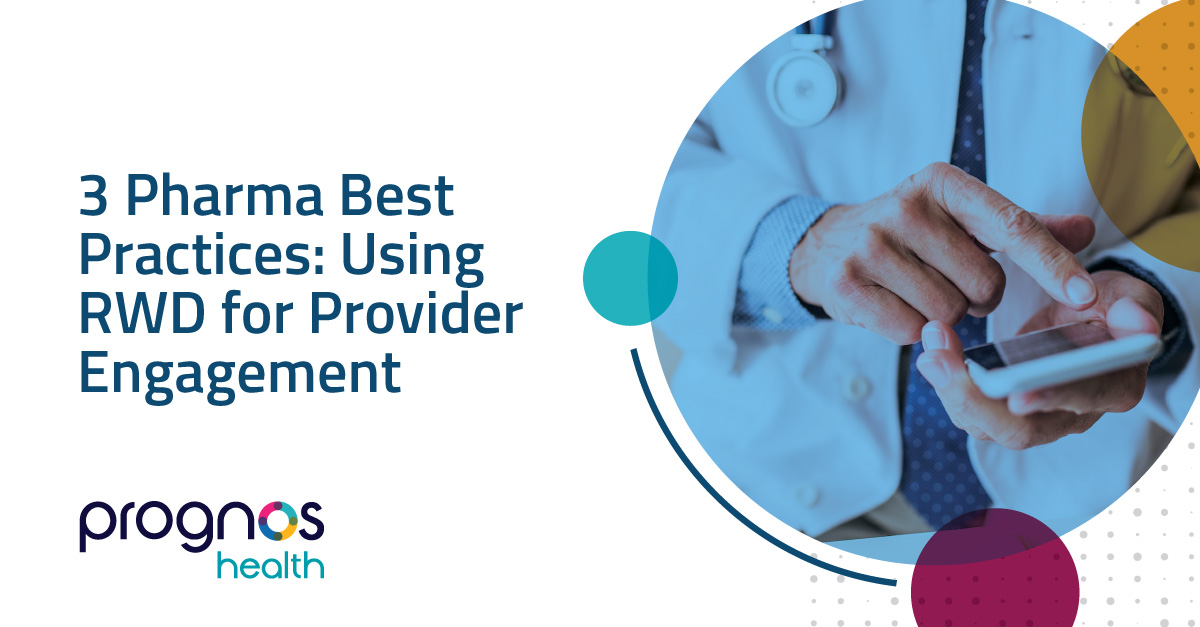 During a recent panel discussion at Reuters Events Pharma Marketing USA, leading pharma executives shared their strategies and best practices for leveraging real-world data (RWD) to target, educate, and engage with healthcare providers (HCPs) to commercialize their drug therapies. The session titled How to determine your next best action for every HCP engagement, was moderated by Prognos Health and included distinguished panelists from:
Novartis – Bharti Rai, VP Commercial Operations, Data and Analytics
Takeda Oncology – Samer Ansari, Head of Digital and IT
GSK – Madhavi Ramakrishna, Global VP, Pharma Commercial Data Analytics & Insights
3 important best practices were revealed:
An RWD evolution begins and ends with culture change
All panelists recognized the value of the myriad of new data sources coming into play as well as the advanced digital means of curating, managing, and analyzing this data. However, all panelists agreed that these new data options offer little value unless steps are taken to establish a new data-driven culture throughout the entire organization.
"Implementing the technology and platforms to ensure data is properly organized and integrated are table stakes in the data-driven decision-making journey," said Rai. "Ensuring a data-driven mindset is embedded in all areas of the company is the more critical factor. The analytics team can no longer work in a silo. Insight generation is not something that happens in a vacuum. It takes marketing, sales, operations, and the analytics teams sitting together in a room to examine the implications and identify the opportunities to turn data into the insights that will achieve an outcome. That requires enhancing the data IQ of the entire organization."
Less is more
More data and insights can easily entice a pharmaceutical company to send more messages to treating providers. This is an urge that must be resisted according to the experts, particularly in the COVID era when HCPs are being bombarded with digital forms of communication.
"An HCP's time is valuable and the last thing they want is to be spammed or inundated with messages that don't pertain to them," said Ramakrishna. "Our focus at GSK has been to move away from the frequency model – hitting providers with content at set intervals – to developing more limited and targeted messages that are extremely relevant and timely. That's where the challenge lies. It's about determining what quality engagement looks like and the proxies that tell us the types of engagements that are working."
Use the consumer industry, not pharma, as your benchmark
Finally, the panel recognized that the pharmaceutical industry has been a laggard when it comes to digitization and executing data-driven decision-making. To truly make strides in this area, the panel believes pharma companies should mirror the strategies employed by consumer giants, such as Amazon, instead of using their own industry as a benchmark.
"HCPs are also human consumers," said Ansari. "They all have smartphones. There is a digital experience that they are used to. When interacting or engaging with pharma companies like ours, subconsciously they expect the same elevated digital experience. Our benchmark is not just the pharma industry, it's the consumer industry and how we can match that experience."
More refined HCP engagement requires not just the RWD technology "table stakes" mentioned by Rai, but a true data partner that can help you implement a data-driven mindset and support your pharmaceutical organization through all phases of the commercialization process.
Prognos Health is that partner. Contact us today for a customized demo of our platform.