5 Benefits of Healthcare Data Marketplaces for Patient-Level RWD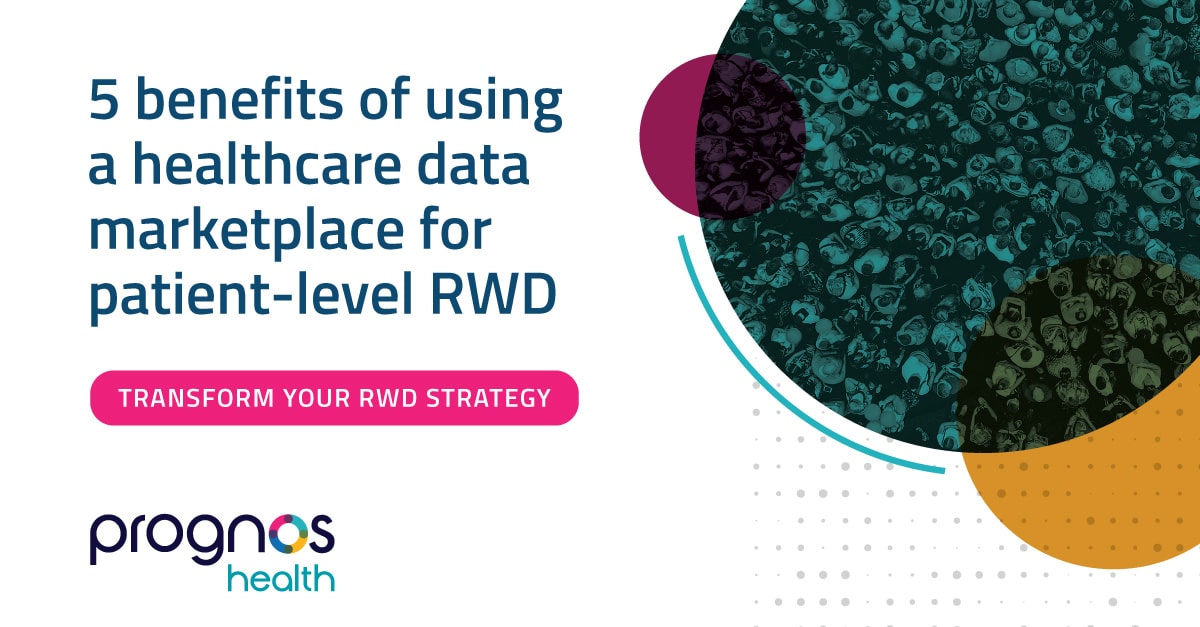 Digital marketplaces like Amazon, eBay and Overstock are a mainstay in B2C commerce. These digital destinations are heralded by consumers for their convenience and the cost and time savings they provide. These digital marketplaces (and their associated benefits) are now gaining traction in B2B circles, and patient-level RWD is one of the many products and services being elevated by this approach with a healthcare data marketplace.
While not quite as prevalent as their B2C counterparts, data shows that B2B marketplaces are at an inflection point. A recent study by Digital Commerce 360 projects B2B marketplaces will account for 30% of all global online B2B sales by 2024; estimated to reach $3.6 trillion up from $680 billion in 2018.
Some of this growth is being spurred by the COVID-19 pandemic that has driven many businesses away from manual purchasing processes (i.e. face-to-face or paper-based transactions) and towards more digital-based buying strategies. Another driver of growth is a new generation of workers, many of whom have grown up making online consumer purchases, expecting a similar buying experience in their professional lives.
The intersection of these two drivers has had a profound impact on B2B marketplaces. A mere 24 months ago, there were approximately 70 vertical B2B marketplaces. Today, there are more than 250.1
Healthcare data marketplaces change the game for patient-level RWD
The B2B marketplace concept aligns well with patient-level real-world data (RWD) and is enhancing the way this information is queried, purchased, and applied for commercial launch and ongoing brand performance.
The patient-level RWD life science and healthcare payer organizations leverage to support product launch, commercialization, clinical trial and underwriting efforts is already digital in nature, yet most existing processes to procure this data are highly manual. Prognos Health's Marketplace, is one of those game-changing RWD solutions.
Currently, most life science organizations work with data aggregators or directly with individual data sources to acquire RWD. This status quo for procuring RWD is often fraught with the following issues:
The process can be time-consuming, involving extensive interactions with data sources to identify, price, purchase, and ultimately receive the desired data files.

The data received often isn't as customized to the business or clinical need as desired and isn't easily integratable with other data sources.

These factors increase the time and effort required to actually get purchased data into production and realize it's value.
5 benefits of health data marketplaces for patient-level RWD buying
A patient-level RWD digital marketplace is a compelling alternative to aggregators and direct buys, giving companies a single online destination to explore and purchase different types of patient data from multiple sources. Marketplace data buying offers the following benefits:
Flexibility — A marketplace allows companies to be very specific when customizing the data they wish to buy — both from a patient and source perspective. They aren't forced into purchasing packages of patient data that may include more patients or sources than they are interested in studying. Plus, a marketplace allows you to receive data updates on a chosen frequency, ensuring companies are always working with the most up-to-date information instead of point-in-time data.
Unique data sets — Health data marketplaces focus on securing data sources and types that aggregators have largely overlooked to date. This includes different types of harmonized lab data, specialty pharmacy data, and more. The information contained in this unique data can add a new level of clinical insight and perspective into targeted patient populations.
Cost-effectiveness — Because of the precision a marketplace offers in identifying patient populations, resulting data purchases are extremely cost effective. Life science companies are no longer exposed to the overbuying or double buying that can occur with aggregators or direct data purchases.
Linkability — Some RWD marketplaces take an agnostic approach and use common tokenization technology for data standardization. This provides a built-in ecosystem of readily linkable data sources and improves downstream data integration.
Speed to value — A healthcare data marketplace allows life science companies to significantly reduce the time it takes to not only make a patient-level data purchase, but also get access to the data for business applications. Patient cohorts can be identified in minutes instead of weeks and data purchases can be finalized within days.
Healthcare data marketplaces, like Prognos Marketplace are available today and have the potential to completely transform the way patient-level RWD is queried, purchased, and applied. Learn more about the advantages of digital marketplaces by downloading Accelerate Pharma Value With Marketplace Data Buying