Brand Eligible Patient Alerts Supercharge Marketing & Sales Execution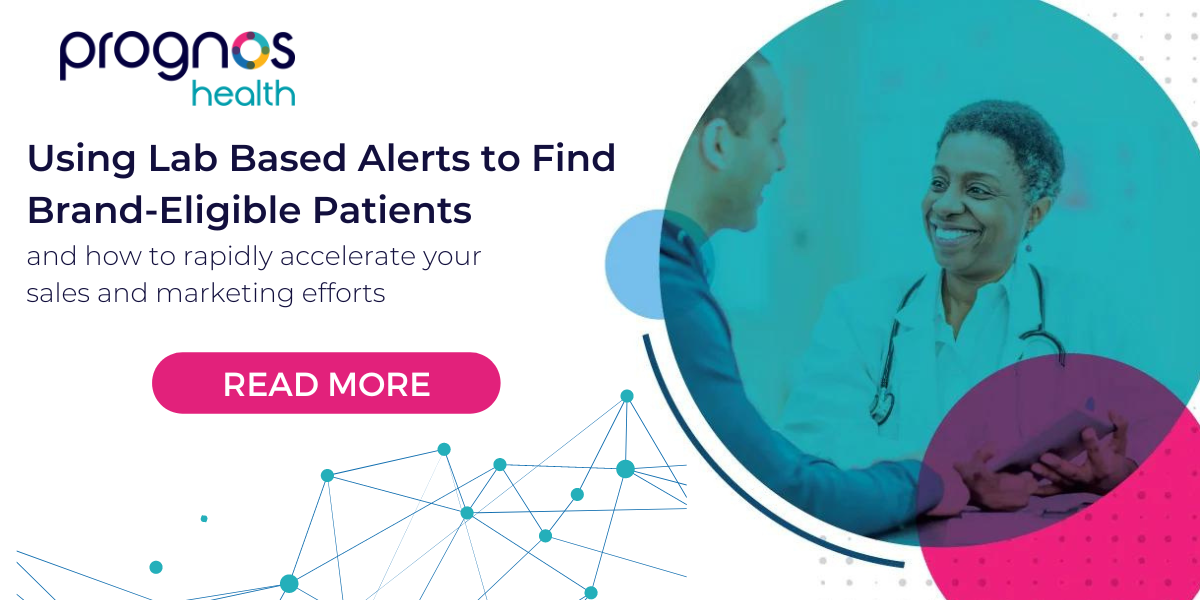 Q: What are alerts? Why are pharma brand teams using brand eligible patient alerts as part of their marketing and educational strategy?
An alert is a notification of an event. Typically delivered daily or weekly, alerts can let pharma brand teams know when healthcare providers have taken a specific action or are treating certain types of patients. Prognos' brand eligible patient alerts – known as Trigger and Navigator – leverage laboratory testing to alert pharma brand teams when a physician is about treat a patient that could be served by their medication.
Pharma brand teams are increasing their use of alerts in an effort to be more dynamic in their approaches to outreach. Instead of relying solely on call plans based on reaching out frequently to physicians who write the most prescriptions in a market, brand teams are looking for ways to be more agile and ensure that they're delivering their messages when they will be most relevant to the physician through segmentation. With increased relevancy, the impact of their outreach will increase and physicians will find more value from their interactions.
Q: How is leveraging laboratory testing to time outreach unique?
A: Lab testing differs from other data points because it precedes and influences physician treatment decisions. Alerting based on lab test orders and results provides pharma brand teams the ability to contact physicians and intervene before they decide on a therapy for patients who could benefit from their brand.
Physicians use lab testing every day in the course of evaluating patients' health and determining if therapy should be initiated or changed. Some reasons they may order lab tests include:
Confirm a particular diagnosis based on the patient's symptoms. Results here could determine that the provider is about to diagnose a patient for the first time. Consider how important this is for many rare diseases, where a complex array of lab-testing results is often required to confirm the diagnosis.
Determine which therapy option may be the most appropriate, for instance, based on the presence or absence of a given genetic mutation or other biomarker that is required by a particular targeted therapy option. Brand managers for targeted therapies, could be much more efficient in their outreach if they knew when physicians were about to treat a patient that their brand could help.
Monitor the patient over time to confirm whether the disease is under control or is uncontrolled or relapsing. Many brands are used as second- or third-line therapy, when the patient's disease progresses. Instead of reaching out to physicians haphazardly, these brands' messages would be much more relevant if they were timed to when the physician has a relapsing patient and will need to make a decision about a therapy change.
The goal is to allow the pharma sales rep and marketing team to reach healthcare providers more effectively with well-timed, tailored messaging — as the physician is about to treat one or more so-called "brand-eligible" patients, but before the prescription for another therapy has been written.
Q: What are brand eligible patient alerts and why is it important?
A: "Brand-eligible" basically means that a patient fits the criteria of someone who would benefit from the brand team's therapy. When devising the most relevant alerts, the Prognos clinical team works closely with the pharma brand team to define how broad or narrow a patient profile should be. This involves defining key clinical characteristics, particular diagnostic lab tests, and critical threshold values for the test results. The goal is to define the most relevant screening criteria so as to be able to identify those (de-identified) patients who can then be considered "brand-eligible" based on the approved label indication for the therapy.
For instance, if a brand is approved to treat multiple myeloma patients whose disease is relapsing, the Prognos clinical team may recommend that we look at the different m-protein tests and results that indicate a spike as an indication of the relapse.
Q: What types of outreach are pharma brand teams using?
A: Pharma brand teams can leverage alerts in a multitude of ways. The most common we see is field force deployment. Sales reps are one of the most expensive and valuable resources that pharma brand teams have so ensuring that their efforts are targeted and efficient makes a lot of sense.
Besides sales rep deployment, many pharma brand teams are also using alerts to direct their non-personal promotion like email and digital advertising. Some are even looking at alerts to see if there are geographies with concentrations of brand-eligible patients so they can advertise there or hold educational programs. The most successful brand teams are not considering each tactic separately; instead, they use them in an omnichannel approach.
Q: What do you mean when you say omnichannel?
A: Omnichannel marketing is an evolution of multi-channel marketing. Multi-channel marketing refers to the strategic use of more than one channel to reach customers (in this case, prescribing physicians). These channels may be personal, involving visits or phone calls from pharma representatives, or instructional events. Other channels may be non-personal, providing branded and unbranded outreach via push emails and other interactive digital platforms. The key is that the message is reinforced across those channels.
More recently, a newer effort — omnichannel marketing — has begun to emerge. This approach still relies on using multiple channels but takes a more sophisticated and nuanced approach. Using omnichannel marketing, the pharma brand team captures and integrates insight from what's going on in all other channels, and uses it to inform ongoing activities.
For example, if a physician interacts with a digital advertisement, the brand team may send a rep to call on them in the next few days to reinforce the content they just saw on the web. The goal is to serve the needs of physicians (and ultimately their patients) more effectively — by reinforcing the messages that have captured the physicians' attention.
Q: I see. What are some best practices for brand teams to consider when leveraging alerts across the different channels?
A: First, and foremost act quickly. The lab-based alerts provide brand teams with time to intervene before a treatment decision is made, but that window is finite. Outreach after the treatment decision has already been made may still be relevant to the physician, but it will most certainly be less impactful as the opportunity has passed.
Ability to shift efforts is important when considering non-personal and personal outreach. Not all vendors that pharma brand teams use to help with email outreach, digital advertising, or other tactics can currently change the list of physician recipients fast enough, so brand teams should ask about this when choosing a partner.
For field force implementation, which physicians to call on needs to get to reps as soon as possible. We currently offer delivery of directives to reps through customers' Veeva CRM because we can deliver within minutes of the alerts being published. This gives reps as much time as possible to change their plans and schedule appointments where needed. The Veeva CRM alerts delivery, using Suggestions, also allows for the tracking of which alerts were acted upon so brand teams can see if reps are taking the actions and the impact.
Other best practices include knowing what message should be conveyed based upon the types of patients the physician is seeing and how that message will evolve over time.
Q: We haven't talked much about messages up to this point, can you elaborate?
A: In addition to timing calls appropriately, knowing what a rep should highlight or what email message should be sent is also of importance when improving the relevancy of the outreach. Many brands treat more than one segment of patients – for instance newly diagnosed or relapsing. Alerts can be built so that pharma brands can see what type of patient is about to be treated. Knowing what type of patient is about to be seen allows the brand team to tailor their message.
Patient profiles can also be set up to be broad or specific and brand teams can align their efforts accordingly. For instance, a diabetes brand may be interested in setting up a broad patient profile that captures patients who are both uncontrolled as well as borderline uncontrolled and then use relatively inexpensive tactics to send educational or non-branded messages to the treating HCPs while also having a more specific profile of patients who have already failed first line therapy and are uncontrolled for their field force to leverage.
Q: It sounds like there are a number of options for brand teams to consider. What's your recommendation for them to find success?
A: Don't be overwhelmed. Brand teams likely already have messages developed and tested that they would like to share with physicians. Brand eligible patient alerts are a means of finding the best physicians to share those messages with and when those messages should be delivered. So, continue to leverage the outreach tactics you've found successful, but now in an improved way. Challenge your team to move fast and be ready to get in front of the physicians identified in the alerts each day or week. Use your existing plans, just insert some flexibility in implementation.
Learn more about how brand eligible patient alerts can enhance your physician outreach strategy.